Forest Industry
We offer complete turnkey systems for sharpening and maintenance of your blades. Very basic and economical solutions to multi-axis CNC system for grinding and honing machine knives used for forest industry applications.
Chipper Knives
Veneer Lathe and Slicer Knives
Paper Sheeter Knives
Paper Guillotine Knives
Paper Slitting Knives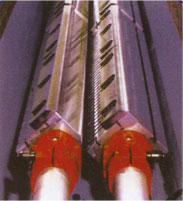 Double Work Tables
Our Turnkey Package
A machine built for your application with the longest duty life available to the industry
Delivery to your door with out any surprise charges
Setup and operator training by our factory trained technician
Grinding and honing supplies specifically for your application
When we quote there will be no hidden or surprise charges. The only thing you will need to do is set the machine in its place and bring power to the electrical cabinet. Our technician will do the rest.